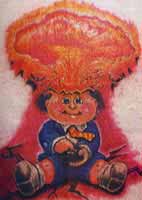 Wow! That's a low price!!
Hello, the title is brainorrhea! So when I started this blog earliers, the first word was all I had saved in draft. When I came back, that is what popped into my head along with thoughts of Drazil's cute little girl all dressed by herself! :)
It has been a crazy 24 hours! Not only did we actually list our house (for 60 days) on the market, we also negotiated property management with our realtors if we don't have a contract by then. I'm a bit stressed because I will be dealing with offers, counter offers and closing alone as Hubster will be away at school. Makes me a little nervous. It's also solely up to me to keep the house in pristine condition because I will only have 30 minutes notice of showings. Two kids and a dog and a cat and me....Lord give me strength!
We have also decided on the house we'll call home in Florida. It's a 3bdr, 2bath with a swimming pool! Cool! It's also about 30 minutes from the beach Double cool! So as exciting as that is, I am also nerve wracked about driving from Kansas to Florida with the kids and dog alone. I think I've found a friend to road trip it with me and help out, but not sure if she'll flake or not. It also means, I get to deal with the military movers on this end single-handedly as well as all the unpacking at our destination.
Hubster will be gone for Phase I of his training for 6-10 weeks. So I have set a goal to lose 15 pounds in 6 weeks to "wow" him when he returns. Hoping some water aerobics and laps in the pool will help.
I'm also freaking out a bit because the whole move is just a month away!! Time is going to fly by! And I'm afraid I'm going to be so busy I'm not going to get to spend the time I want with the friends I have here before I have to say goodbye. Kasey and Kellie have been lifesavers, literally, throughout my time here in Kansas. I watch Kellie's little man and feel so blessed to get to spend a bit of each day with him and will be sad when I don't' get my sweet little baby fix on a daily basis.
Speaking of brainorrhea, I've also had some female issues since surgery. I am on continuous birth control (the patch) to prevent TTOM from visiting due to endometriosis. I had some break through bleeding before my surgery so I just went patch free since they generally want you hormone free. Well, I started using it again the Sunday after (like a Sunday start) and have been spotting ever since. I called and the surgeon's said it shouldnt' have anything to do with the weight loss or the surgery and to call my gyn. So I did. They called in a script for an estradiol patch...put it on last night and woke up with heavier spotting today. So I called them back to make sure it was supposed to actually stop the bleeding...and it was. So they had me stop that and put me on progesterone. Holy hormones, Batman! Hopefully, this will stop the spotting so Hubster and I can....well, you know, before he leaves for Phase I in less than a week. Anyone else have weird woman issues after the band? I'm so ready for my hysterectomy but they won't do it until I'm 6 months post-op from the band. Grrr!
Onto other band related things, I finally got my butt in gear and walked a half mile tonight with Kellie. We plan to do it again tomorrow, maybe we'll make it a whole mile if my little tagalongs stay home. ;) I'm also hoping it will be enough to make the scale show me lower numbers! I'm hoping to be at 207 on Friday, my weigh day. I got down to 209 a couple weeks after surgery, then went back to 211, so I'm hoping to go back down and then some!
Also, for those who are looking for a good pain reliever, Tylenol has a liquid called Rapid Relief. It tastes like cherry cold medicine, but trust me, it tastes better than the children's tylenol and you dont' have to take nearly as much! I discovered this when I no longer needed the liquid lortab but was still having pain from the hiatal hernia repair. Just thought I'd throw that out there in case any of you were looking or getting banded soon.
When I was at the pharmacy last night picking up the estradiol, I noticed they had the store brand Viactiv chews BOGO. So if you are a fan of Viactiv, Walgreen's has their brand on sale this week. It was the 60 count and they had chocolate or caramel flavors. I picked up one of each.
Oh, tonight, my Monster finally figured out how to ride his 12inch bicycle with training wheels. We had to bring it home after our first short walk to have Hubster do some adjustments. I was just so proud of him..he looked so cute riding his big boy bike! Can't wait to do it again tomorrow...hopefully with less of me pushing to get him started.
I guess that's about it for now. Sorry so random, but it was the unloading of the brain.
Oh - one last thing--I'm going to the BOOBs get together! I made the arrangements with my friend who lives near Chicago. So not only do I get to meet all you wonderful ladies, I also get to see my dear friend that I haven't seen in over 3 years thanks to good ol' Uncle Sam! So to say I'm excited is an understatement!
Happy Hump Day!